Class Descriptions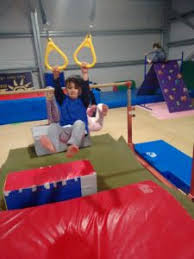 PRE SCHOOL 0-5 YEARS
30 minutes for $5
45 minutes for $6
Both our 30 minute and 45 minute classes for pre-schoolers create a safe and imaginative environment for your child to practice their basic motor skills (Fundamental movements) like running, jumping, grasping, balancing, strength building and co-ordination through gymnastics.
Your child will be able to test their abilities and build their confidence when doing obstacle courses, circuits, using the bars, beams, trampolines and don't forget the pit!
These classes are parent lead, which means that parents are down on the floor with their child taking them through the activities at their child's pace and comfort level. We strongly support the notion of children developing and growing confidence at their own pace. Coaches are there to support and assist parents with their child's development.
Activities and circuits are designed to carter for the age of the class. All Pre Schoolers have an opportunity to undertake the circuit that has been set up (this depends on the age of the children) in that session time.
We seek to provide your child with a diverse learning experience in a fun, safe and engaging way.
KIWI GYM FUN STRUCTURED FOR 4-5+ YEARS
$95 Term for 4 years during the day sessions
$132 Term 5+ years for after school sessions
This is the first of our Kiwi Gym Fun classes,. This class is Coach lead and depending on the age of the child we still require parents down on the floor to assist their child(ren).
This class is a 1 hour class. Each week we focus on a particular skill which the child(ren) have an opportunity to practice during a specific teaching circuit prior to undertaking the circuits AND they get to have some free time to explore by themselves (after completing the circuits) set out for the session.
This class will suit child(ren) who are able to listen, follow instructions and be able to do certain things without parent help. Those who attend this class must follow the coaches programme set out for that day.
THIS IS NOT A FREE PLAY CLASS
The during the day Kiwi Gym Fun structured class provides a good lead into the afterschool classes which don't have parent participation on the floor. Those child(ren) enrolled work towards their Kiwi Gym Fun Certificate at the end of the year.
Testing will be done during Term 4
PRE INCENTIVE 6-8 YEARS
$132 a Term
This is a step on from the Kiwi Gym Fun Badge Class and leads into either our Excel Programme, Incentive Programme, Pre Comp or Competitive Gymnastics.
To join this class your child will need to be able to do a forwards roll to stand, handstand and a cartwheel.
We focuses on specific apparatuses which helps the gymnasts learn new skills and skill combinations on floor, uneven bars, balance beam. Shape, conditioning and flexibility are core components of the class. This class is suitable for those gymnasts who follow insttructions and like structure and who want to continue on this path way stated above.
Our experienced coaches understand that every child has their own strengths and weaknesses, and are fully accommodating to any of the gymnasts needs, whether that is making something easier, or challenging a gymnast to extend their abilities.
INCENTIVE AWARDS 7+ YEARS
In the Incentive Awards Programme there are 7 Levels in each disciplines.
$140 a Term
We currently offer the Artistic incentive Awards Programme and the entry criteria is:
your child is 7+ years
been assessed or invited by the Lead Coach or Recreational Manager
has attended the Kiwi Gym Fun Classes OR has done the Pre-Incentive class for 1 year
can perform the basic skills required for the Incentive Awards Class
Most children enter at either Level 1 or 2. This way we can ensure that they are in the right level for the year.
Then they must progress through each subsequent level of the programme (you can not skip a level once you have entered into the programme). This programme extends on the skills learnt in the Kiwi Gym Fun Programme as well as the Pre Incentive Class. This includes the following:
Conditioning – Development of strength, agility and flexibility
Skills – A cross section of skills on all apparatus
Routines – Skills sequences performed on various apparatus
Testing will be done in Term 4.
If children do not pass they will have to repeat the same Level again the next year.
PARKOUR TUESDAY 7-9 years
$132 a Term
THURSDAY JUNIOR PARKOUR 7-9 years
$132 a Term
FRIDAY SENIOR PARKOUR 10+ years
$20 Casual or $172 a Term or Concession Card 7 Trip $130
Parkour is the art of expressing oneself in his or her environment without limitation of movement.
We will teach students how to develop their Parkour skills with safety in mind. Skills will involve a wide range of vaulting, flips, rolling, spinning, hanging, jumping and swinging.
JUNIOR 8-9 years
$16 Casual or $132 or Concession Card 7 Trip $100
SENIOR 10+ years
$20 Casual or $172 a Term or Concession Card 7 Trip $130
This class is a 60 or 90 minute class. Gymnasts will build a solid foundation for more advanced skills as they progress.
New enrolments must be at least 8 years old or above, and be able to competently achieve a handstand, cartwheel, backward roll, dive roll and bridge. If you do not have these skills you should enroll in the Kiwi Gym Fun or Pre Incentive Class.
Beginner Tumblers from 8 to 10 years will learn skills such as round offs, walkovers, handsprings, flick flacks (back handspring), forward and backward somersaults and twisting. Our coaches will help you to combine skills into a tumbling passage and achieve your goals.
Senior Tumblers from 10+ years upwards will learn the correct technique and execution of round-offs, handsprings, flick flacks and much more. Advanced tumblers can work with coaches to develop new skills like layouts and twisting.