Recreational Classes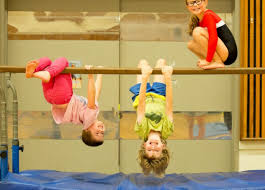 Something for everyone - from toddlers through advanced
We are delighted to offer recreational classes for all ages and experience! To see current class times, prices, and availability, sign-in to your account: Log-In or Create Your Account
TODDLER & PRESCHOOL -- All classes with a focus on developing fundamental movement and motor skills in a safe, imaginative environment! SCROLL DOWN TO BOTTOM OF PAGE FOR 2021 TERM 3 SESSION OFFERINGS!
Parent Participation, Guided Play (0-5 year old). Enroll online for the term, or drop-in throughout the term, as is convenient for you.
Structured PreSchool Gymnastics (4-5 year olds). Term-long structured class, with limited or no parent assistance. Perfect for learning gymnastics and social skills of a class environment before moving on to primary school settings. Must pre-enroll online.
AFTERSCHOOL GYMNASTICS -- Globally known as a fundamental movement sport, gymnastics provides the building blocks for all other sports, dance and martial arts. Our programmes enable confident movers with strong bones and muscles, improved posture and balance, coordination and flexibility. They also teach so many great life lessons including social skills, taking turns, listening and following instructions, bravery, a love for trying new challenges, and discovering that falling and failing are integral and FUN parts of the learning process.
Kiwi Gym Fun (ages 5-8 and 8+ ): Term-long, non-competitive classes that combine games and guided play on gymnastics apparatus, with formal instruction and skill development. Gymnasts progress their skills at their own pace, over the years!
Incentive Program (ages 7+ , by invitation only): Year long, non-competitive programme that focuses on the Gymnastics New Zealand Incentive Award scheme. There are seven levels, and gymnasts typically work on one level a year (higher awards often take multiple years).
AFTERSCHOOL PARKOUR - Parkour is the art of movement without limitation! We teach students how to develop their Parkour skills safely: vaulting, rollings, spinning, hanging, jumping, and swinging throughout the gym! Note: all classes are age-specific to ensure instruction-style and equipment set-ups are appropriate.
Junior Parkour (ages 5-8)
Intermediate Parkour (ages 8-12)
Senior Parkour (ages 10-17)
AFTERSCHOOL TUMBLING (ages 8-16) - Perfect for athletes who want to focus on gymnastics tumbling-style skills - whether to continue to advance in their own gymnastics, or as a compliment to so many other sports (cheer, dance, martial arts, etc.!) Our tumbling class focuses on skill progressions on our spring floors, air-track, and tumble track.

Toddler & PreSchool - 2021 Term 3 Casual Offerings! (starts week of 2-Aug)
45 MINUTE - PARENT PARTICIPATION - GUIDED PLAY SESSIONS: $6 Entry Fee each time / $50 For Full Term 3 with online enrollment
Crawlers & Walkers (0-2 years olds) - 45 minute, Parent Participation, Guided Play Sessions

Wednesdays 9:00 - 9:45
Thursdays 11:45 - 12:30



Explorers(1-5 year olds) - 45 minute, Parent Participation, Guided Play Sessions

Wednesdays 10:00 - 10:45
Thursdays 10:30 - 11:15
Sundays 9:00 - 9:45



1.75 HOUR - PARENT PARTICIPATION - GUIDED PLAY SESSIONS: $10 Entry Fee each time / $85 For Full Term 3 with online enrollment

Explorers Extra (1-5 year olds) 105 minute, Parent Participation, Guided Play Sessions

Friday 9:00 - 10:45 The Explorers Extra runs exactly like our Explorers classes. It is also a great option for kids with tons of energy, as well as for families that appreciate having a bigger window (time-frame wise) to arrive or leave in. Please note, the entry fee covers the session, regardless of when you do arrive or leave.